Before I leave you to this little tête-à-tête, I just wanted to thank you all SO MUCH for all of your kind comments on my
Bombshell Swimsuit post
and for all the links to European shops you are sharing. You guys are the best, as usual.
I also wanted to spend a word to defend my boyfriend, as I realize I made it sound worse than it actually went. I pushed him to give me a honest opinion on a full-figure swimsuit picture and he basically told me it wasn't my best look. That's it. Not the best thing to hear from your sweet half, but he wasn't mean to me at all. Still, it was heart warming to see how defensive you were of me :D
Now, read on if you want to more a bit more about Heather and her amazing new pattern.
For those who are not familiar with your blog, Closet Case Files, can you tell us something about yourself? How long have you been sewing?
In my real life, I am a commercial interior designer working for a small firm (right now I am re-developing the design concept for a Canadian coffee chain). I've been in Montreal for 10 years, and am so blessed and thrilled to be living in this free-spirited, laissez faire, creative community.
Closet Case Files
started 2 years ago when I made the decision to stop buying new clothes. I've always been totally obsessed with fashion and as result had a wee bit of a shopping addiction (read: major credit card debt); I made a resolution to only thrift or learn to make any new clothing. I quickly discovered the sewing blog community and was utterly blown away by what everyone was up to. My blog quickly shifted from a fashion/"outfit of the day" type of thing to become entirely sewing focused; it became a way for me to monitor and share my progress as I learned to sew.
I made my first dress around this time 2 years ago and with the exception of a few items here or there, have pretty much stopped buying clothes at all. I don't even thrift much anymore unless I'm looking for vintage fabric, patterns or things to refashion. I'm incredibly lucky that I get to be creative from 9-5, but I can't believe how incredibly validating, life-affirming, and confidence boosting learning to sew has been! I have a tendency to be hyperbolic, but I think learning to sew was the best thing I've ever done.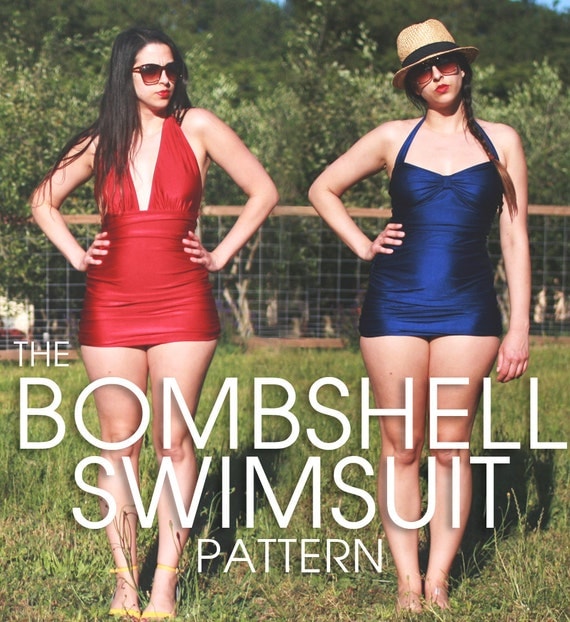 I've always had a thing for vintage 50's swimsuits. I have a drawer full that look great on but are a nightmare wet because they're made of stretch cotton or weird vintage knits. Then, I fell in love with these Norma Kamali swimsuits I saw on the cover of a Vanity Fair magazine (featuring the Desperate Housewives of all people). This was before I learned to sew, and I had a seamstress make me a replica a few years ago. When it started to really fall apart, last summer I decided to figure out how to recreate the style.
Studying the numerous swimsuits I had and a number of vintage patterns, I drafted a suit that fulfilled what I was looking for: a modest but flattering silhouette, ruched sides, and a ruched, low cut seat that completely encased the bum (anyone who has followed my blog for a while knows how much I LOATHE what happens to full-bootyed ladies when you wear a high cut suit. Quad cheek horror).
It was a pretty ambitious project for someone with relatively little sewing experience, but I was helped tremendously by
Dixie DIY
who was hosting
a swimsuit sewalong at the time
(She is my swimwear Yoda). Following her advice, I made a maillot and a high waist bikini last summer. The reaction from readers surprised me – women REALLY wanted the pattern. I realized there was a huge demand for this kind of modest, sexy, vintage suit so I taught myself how to grade patterns this spring in order to release it in time for beach season.
Who do you recommend the Bombshell Swimsuit pattern to?
I think this is a universally flattering swimsuit. I've seen it on every shape of body, and everyone looks so good wearing the Bombshell my heart swells about 4 sizes when I think of it. Personally, I'm fighting the tyranny of the bikini. I have nothing but love for those of us who can pull one off, but I suspect the majority of us just feel exposed and uncomfortable in the damn things. I released this swimsuit for every woman who dreads swimsuit shopping, who avoids situations where they need to wear one, and who is filled with self-doubt and self-loathing on the beach, when they should be frolicking in the sunshine like summer nymphs. Life is too short to hate your body. It's the only one we've got – why not wear something that makes you feel beautiful?
How was the process of developing a pattern for the first time?
Can I swear on your blog? Imagine all of the swear words in all of the languages and then scream them into a megaphone. It was… intense. Because I had to move this winter, I got a late start and only gave myself 8 weeks to get it ready. Since I work full-time, I basically dedicated every spare moment to tweaking the pattern, learning to grade, slaving over instructions. Thankfully, I have a technical background in design, so it wasn't THAT much of a stretch to apply those skills to pattern making. Illustrator was a godsend once I figured out how to use it.
What really made the whole process so much easier and valuable was the input I got from my pattern testers. I sent a beta version to a number of ladies, women whose style I admired and who I would fly great distances to hang out with. Their insight, input, encouragement and love really pushed me to finish it and get it out there. I say it all the time, but our community is so f*cking amazing it blows my mind on a daily basis. The women (and
Peter
) I have had the great pleasure to meet and interact with honestly confirms my faith in the inherent goodness, creativity and potential of humans. You guys are the best.
Heather's inspiration
Do you plan to release other patterns?
This is a toughy. I honestly started this whole process with zero intentions to release another pattern. I really just wanted to get the Bombshell out there because there was a serious hole in the pattern market and women were clamoring for it. However, I learned so much, and got such overwhelmingly positive feedback, that I may release another. If so, it would probably be another swimsuit. I think there are so many gifted indie pattern designers doing regular apparel that it might be nice to stay in a little beach niche. But we'll see. Anything is possible. Especially now that I've mastered Illustrator.
And while I cross my fingers for Heather to release a retro bikini pattern, guess what? She is giving away one copy of the
Bombshell Swimsuit pattern
to one of my readers.
In order to win, you just need to leave a comment below
Please leave an email address so I can get in touch with you (you need to write it in the comment, because I cannot access the address you leave in the Disqus form).
The winner will be selected randomly.
Good luck!